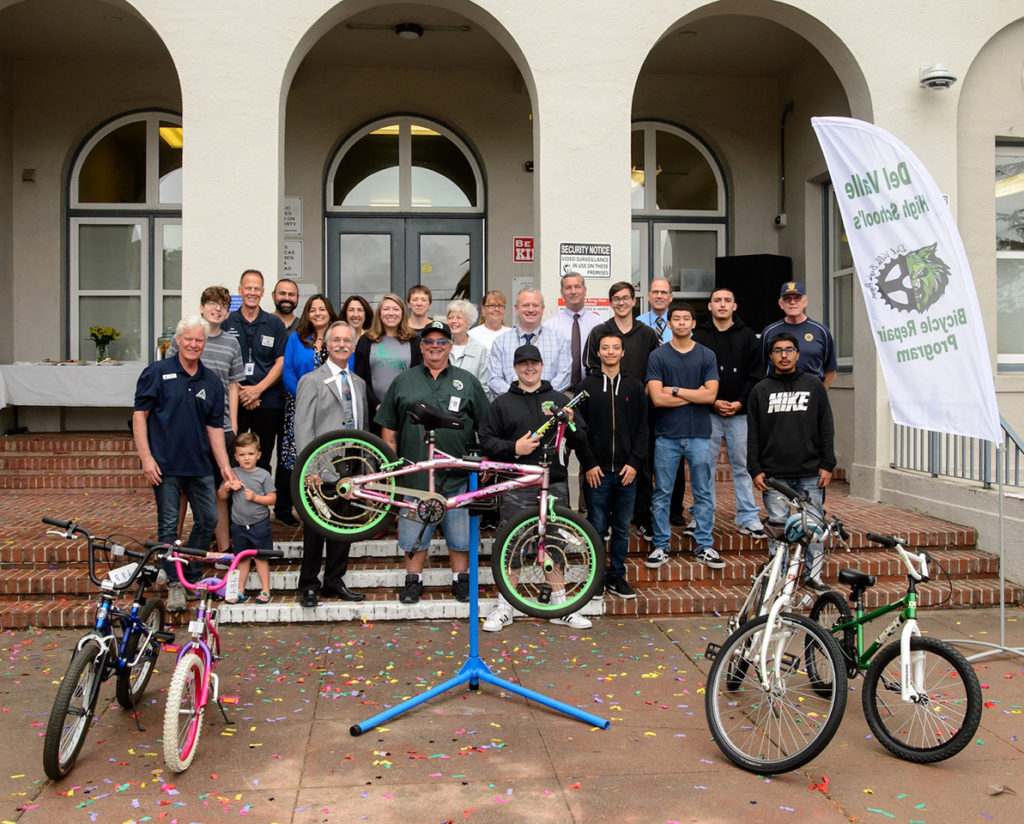 Kids Bike Lane would like to congratulate Del Valle High School for refurbishing their 1,000th bike to donate to underserved children and youth in Livermore. Kids Bike Lane is honored to have received the 1,000th bike which we will see receives a deserving new home. See the article below that appeared in The Independent newspaper.
Celebrating 1,000 Bicycles for the Community
Thursday, September 19, 2019 – Livermore, CA – ​What measures 20 inches, is hot pink and lime green, and has the word "Trouble" splashed across its frame? It's the 1,000th bike that was donated to a deserving community member, thanks to the work of students in the Del Valle Bicycle Repair Program. What began as an after school program six years ago has, to date, trained 125 students in bicycle mechanics.​ P​ aul Grasseschi, founder of the program, said the underlying philosophy is to "take something that doesn't work, ​something someone else tossed out, and make it useful again." ​On Wednesday, September 18, 2019, students and Mr. Grasseschi unveiled the 1,000th bike among cheers and confetti as Jerry Schweickert from Kids Bike Lane was presented with "Hot Pink Trouble" to give to a child in need of a set of wheels.
"This program teaches students critical thinking and problem solving, and gives them a chance to work with their hands. Even more, it teaches them how to put other people before themselves," said Grasseschi. Spencer Rodrigues, an 11th grader at Del Valle, spoke on behalf of the students in the program, acknowledging that this work is shared by many.
Representatives from American Legion Post 237, Knights of Columbus, Kids Bike Lane, and Bike Angels United joined the celebration. The program is a true community effort, with support from the Livermore Police Department and surrounding police departments. The celebration concluded with a tour of the Del Valle Bike Shop – a classroom that resembled the professional repair room of a bike shop.
Del Valle Principal Erik Taylor said, "​Beyond the practical learning taking place with this program, our students also learn that there are people in our community in need who do not have a means of transportation to get to school or a job. Our students provide this independence for them." His sentiments were echoed by Superintendent Kelly Bowers, Ed.D, as she stated in her address at the event, "I'm incredibly proud of our staff at Del Valle for their commitment to students and for continuously looking for innovative ways to engage them in learning while fostering a heart of service."